Investments in tourist residences / hotel residences
Hotels :
Hotels are often presented and perceived as safe and reliable investments. This is all the more true in France, which remains the number one tourist destination in the world and where the occupancy rate for hotels remains exceptionally high.
​Up to now reserved for professionals, investment in hotels is spreading among individuals who appreciate its advantageous returns on investment and its favourable tax regime (exemptions from the real estate wealth tax (IFI), tax reductions, etc.).
​Thus, savers are offered several formulations to invest in specialised funds or club deals as shareholders and/or creditors.
But these various investments are bound to the economic context and even the geopolitical situation (terrorist attacks, etc.) are also not protected from poor economic management by the operator and present a certain number of legal risks as well.
​Thanks to its know-how and the extreme specialisation of its attorneys, Goethe Avocats is familiar with all of these risks and assists the investors it defends in all of their undertakings, particularly against the operators.
Business and hotel residences :
Business and hotel residences have the same legal status as tourism residences and thus designate commercial lodging establishments that offer multiple furnished assets for rent.
Encouraged by advantageous taxation (the LMNP status [Non-Professional Renter of Furnished Rentals], recovery of VAT when purchasing the asset, deduction of actual costs and borrowing interest from the overall income, etc.), these properties have developed rapidly, attracting tourists as well as professionals on business trips far from their principal residences.
As with tourism residences, numerous disputes may arise between the owners and the operators managing these rentals from A to Z, although the signature of the leases commits both parties, bound hand and foot, for a minimum duration of 9 years.
The terms for revising the rents, the distribution of charges, the renewal of the lease (etc.) are all possible sticking points although the clauses in the lease remain quite free. Thus, the investor must be particularly attentive when these are defined.
​Thanks to its expertise and its experience in managed real estate, Goethe Avocats assists its clients in all of the problems encountered and deploys a defence arsenal ranging from negotiation to litigation, whether in court or outside of court.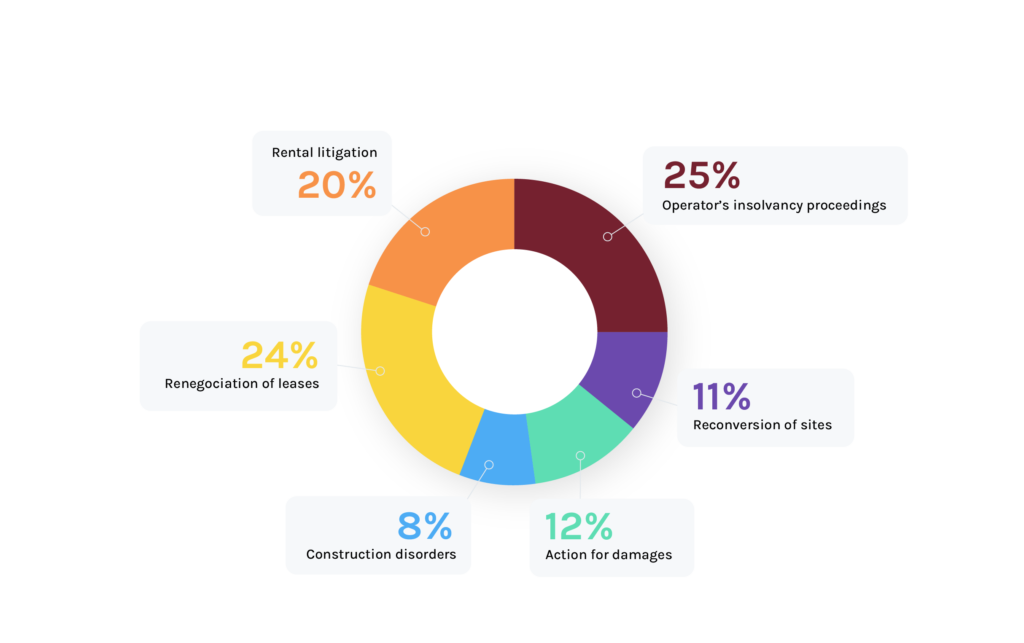 Exemples of issues rencetly adressed by the Firm :
Rent disputes (unpaid rents, rent revisions, etc.)
Negotiation of lease renewals
Searching for a new operator or a "reconversion" solution for the establishments
Handling of construction issues
Handling of co-ownership problems
Assistance in the context of procedures for court-ordered reorganisation/liquidation of the operator, negotiations with candidates to take over operations
Procedures for compensation for harm suffered by the co-owners as a result of actions by various participants in the operation (promoters-sellers/ estate management advisors/ notaries/ operators, etc.).
CONTACT US
Contact Goethe Avocats
Our informations:
Main office: 1 Rue de Courcelles, 75008 Paris
Secondary office: 145 Rue Breteuil, 13006 Marseille